Monthly Reflections from Fr. Antony Hughes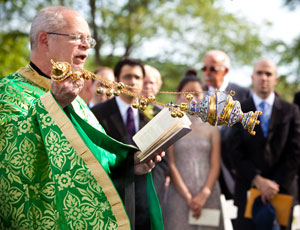 In every edition of our parish's newsletter, Fr. Antony offers a short, but inspiring message to complement the activities, minsitries, and current events of the life of the church. Below is a collection of these messages.
A history of our parish written on the occasion of the 90th Anniversary of our Parish (2018-2019). The spirit of family, commitment and fellowship is as strong today as it was ninety years ago when those courageous immigrant families during the Great Depression, undeterred, formed our parish.
Read more »
St. Mary's acquired the church house of the First Universalist Church in 1954. It is the second oldest church building in Cambridge, having been built in 1821. St. Mary's Parish is located at 8 Inman Street, however, the church building originally graced the corner of Massachusetts Avenue and Main Street, approximately one half-mile from its current location. The Universalist congregation had moved the entire building from its original location in the latter decades of the 19th century (the reason for this move is lost in the mists of history).
Read more »
On Inman Street in Cambridge, St. Mary's Orthodox Church is an intriguing and complex religious institution. The community is characterized by an acceptance of diversity and eclecticism, an emphasis on the notion of the congregation as a family, and a deep commitment to the act of devotion.
Read more »