Make your 2016 Stewardship pledge today! »
Weekly E-mail Newsletter

Subscribe to our weekly parish email newsletter »
See the latest announcements »

Please consider a donation to St. Mary's Church to help support the ministries and work of our community. Donate now ».
Spiritual Quotes
And increasingly - you know this and so do I - we're losing the youth everywhere...they are not interested in having more fears and guilt laid upon them. They are not interested in more sermons and exhortations. But they are interested in learning about love. How can I be happy? How can I live? How can I taste the wonderful things that the mystics speak of?
- Anthony DeMello
Upcoming Services and Events
Friday, August 5
6:30 pm
Vespers/ Divine Liturgy for Feast of Transfiguration
Wednesday, August 10
6:30 pm
Paraclesis for the Dormition
Sunday, August 14
Dormition of the Theotokos celebrated today
Service Schedule and Calendar

Sunday Orthros - 8:45 am
Sunday Divine Liturgy - 10:00 am
Great Vespers - Saturdays 5:00 pm
Confessions - Saturdays 6:00 pm or by appointment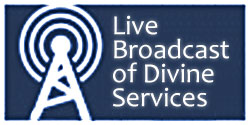 If you are unable to attend in person, consider tuning in to our live broadcasts! See More »
July 17, 2016 - by Fr. Antony Hughes
In stark contrast to the horror of the terrorist attack in Nice, we are drawn by Christ to speak of what is true and beautiful about human nature and about the Gospel of peace and compassion. We cannot allow ourselves to forget the Lord's truth especially in the face of the truly demonic. If we do, then the light in us may flicker in the face of despair, although we are assured by the Beloved Apostle that it can never be extinguished.
Read more »
July 10, 2016 - by Fr. Antony Hughes
What does it mean to have a sound eye? If our eyes are clouded with self-interest, by a desire for worldly things, like wealth and power, and are not focused on God alone, then our eyes are not sound, and we will be full of darkness. Jesus calls us to single-mindedness and to a simplicity of life that will set us free.
Read more »

Read more sermons
from St. Mary Church »