Make your 2015 Stewardship pledge today! »
Weekly E-mail Newsletter

Subscribe to our weekly parish email newsletter »
See the latest announcements »

Please consider a donation to St. Mary's Church to help support the ministries and work of our community. Donate now ».
Spiritual Quotes
"In prayer we discover what we already have. You start from where you are and you deepen what you already have, and you realize you are already there. We have everything but we don't know it and don't experience it. Everything has been given us in Christ. All we need is to experience what we already possess."
- Thomas Merton
Upcoming Services and Events
Wednesday, August 5
6:30 pm
Vespers/Divine Liturgy for Feast of Transfiguration
Wednesday, August 12
6:30 pm
Paraclesis for the Dormition
Friday, August 14
Vigil for the Dormition of the Theotokos
7 pm
Festal Divine Liturgy
Service Schedule and Calendar

Sunday Orthros - 8:45 am
Sunday Divine Liturgy - 10:00 am
Great Vespers - Saturdays 5:00 pm
Confessions - Saturdays 6:00 pm or by appointment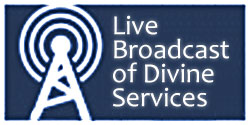 If you are unable to attend in person, consider tuning in to our live broadcasts! See More »
July 05, 2015 - by Fr. Antony Hughes
In June 2015, His Eminence Metropolitan Joseph issued new Antimins to all of his parishes in the Antiochian Orthodox Christian Archdiocese of North America. On July 5, Fr. Antony presented the new Antimins to our congregration and spoke briefly about St. Raphael, whose relic is sewn into the Antimins. We then prayed a supplication service to St. Raphael to intercede on our behalf to God.
Read more »
June 14, 2015 - by Fr. Antony Hughes
This statement intrigues me: 'they immediately left the boat and their father, and followed him.' Does that make any sense? They had families to provide for and, as we know, Middle Eastern families have very strong ties. But they left 'immediately' we are told. They just ... left! If it really happened exactly like this, there must have been something special about these men that allowed for such spontaneity.
Read more »

Read more sermons
from St. Mary Church »