Make your 2016 Stewardship pledge today! »
Weekly E-mail Newsletter

Subscribe to our weekly parish email newsletter »
See the latest announcements »

Please consider a donation to St. Mary's Church to help support the ministries and work of our community. Donate now ».
Spiritual Quotes
"Allow me to explain the good news my religion proclaims," said the preacher. The master was all attention. "God is love. And God loves and rewards us forever if we observe God's commandments. "If?" said the master. "Then the news isn't all that good is it?"
- Antony de Mello
Upcoming Services and Events
Wednesday, February 17
7:30 pm
Parish Council Meeting
Sunday, February 21
11:30 am
Chinese New Year Breakfast
Service Schedule and Calendar

Sunday Orthros - 8:45 am
Sunday Divine Liturgy - 10:00 am
Great Vespers - Saturdays 5:00 pm
Confessions - Saturdays 6:00 pm or by appointment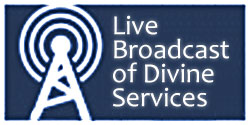 If you are unable to attend in person, consider tuning in to our live broadcasts! See More »
February 07, 2016 - by Fr. Antony Hughes
There is a gift that everyone has received from God. We have been made in his image. There is no greater gift. This gift defines us. There is in the depths of every human being a light that comes from God and connects us with him. Some of the Holy Fathers speak of this in moving terms, like Gregory Nazianzus who wrote: for the spirit that he breathed into (human nature) is a flash of the invisible godhead ... I am attached to life here below, while I also have in me a portion of the godhead.
Read more »
January 31, 2016 - by Fr. Antony Hughes
Jesus calls Zaccheus out of his tree as a compassionate care-giver, not as a judge. Jesus discerns that Zaccheus is open and in need of mercy and without hesitation, Jesus gives it in abundance. Zaccheus learned from Jesus what we are supposed to be learning: love is truth, love is joy, love is the doorway to wisdom, love is life, love is the food of immortality, love is the kingdom of heaven.
Read more »

Read more sermons
from St. Mary Church »