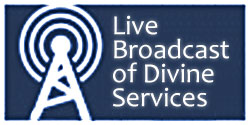 If you are unable to attend in person, consider tuning in to our live broadcasts! See More »

Make your 2016 Stewardship pledge today! »
Weekly E-mail Newsletter

Subscribe to our weekly parish email newsletter »
See the latest announcements »

Please consider a donation to St. Mary's Church to help support the ministries and work of our community. Donate now ».
Spiritual Quotes
Our real journey in life is interior;
It is a matter of growth, deepening,
and of an ever greater surrender
to the creative action of love and grace
in our hearts.
Never was it more necessary to respond
to that action.
- Thomas Merton
Upcoming Services and Events
Wednesday, September 7
6:30 pm
Divine Liturgy for the Feast of the Nativity of the Theotokos
Thursday, September 8
Nativity of the Theotokos
Saturday, September 10
6 pm
Young Adult Potluck Dinner
Service Schedule and Calendar

Sunday Orthros - 8:45 am
Sunday Divine Liturgy - 10:00 am
Great Vespers - Saturdays 5:00 pm
Confessions - Saturdays 6:00 pm or by appointment
August 14, 2016 -
Martha is not still and so she misses the obvious presence of God right there in her own living room. She is so concerned about herself, so full of herself and her serving, that she cannot think of anything else. Sometimes it's just better to order out. Antony De Mello's has an interesting take on this. Although he speaks specifically about silence the same can be said of stillness for they are closely related.
Read more »
August 07, 2016 - by Fr. Antony Hughes
Mercy is a not just a word, it is a name and a Person. It is closely aligned and inseparable from another word which is also a name and a person – that word is Compassion. It is a name that God gives himself. Let's read from Exodus 34. In this section Moses has just thrown down and shattered the tablets of the Ten Commandments in anger at his people's idolatry. Now he recreates them. It is interesting to me that God reveals himself as Compassion at the same time as he blesses the recreation of the tablets of the Law. And then he reveals something greater than the Law. He reveals Himself.
Read more »

Read more sermons
from St. Mary Church »