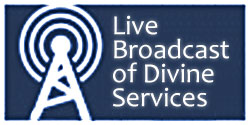 If you are unable to attend in person, consider tuning in to our live broadcasts! See More »
---
Special Announcements and Upcoming Events

Make your 2017 Stewardship pledge today! »
Weekly E-mail Newsletter

Subscribe to our weekly parish email newsletter »
See the latest announcements »

Please consider a donation to St. Mary's Church to help support the ministries and work of our community. Donate now ».
Spiritual Quotes
Whenever we're led out of normalcy into sacred, open space, it's going to feel like suffering, because it is letting go of what we're used to. This is always painful at some level. But part of us has to die if we are ever to grow larger (John 12:24). If we're not willing to let go and die to our small, false self, we won't enter into any new or sacred space.
- Richard Rohr
Upcoming Services and Events
Sunday, August 6
11:30 am
40-day memorial for George Sioras
Monday, August 14
4:30 pm
Vespers- Dormition
5:30 pm
Orthros/Lamentations
Service Schedule and Calendar

Sunday Orthros - 8:45 am
Sunday Divine Liturgy - 10:00 am
Great Vespers - Saturdays 5:00 pm
Confessions - Saturdays 6:00 pm or by appointment
July 09, 2017 - by Fr. Antony Hughes
Those who truly love God are easy to find because they are full of love. Love is the one unmistakable sign of a disciple of Christ. Corinthians 13, "if I have not love, I am nothing." Hatred may cross their minds, but, like a passing cloud, they have learned to let it come and let it go. And if we read the Gospels we discover something else surprising, it is often not the religious and the pious who get it, it is the ones who know they are nothing.
Read more »
July 07, 2017 - by Fr. Antony Hughes
Today's Gospel gives us the opportunity to talk about what faith is, what faith means. I will be drawing from the book AGAINST RELIGION by the renowned philosopher/theologian Christos Yannaras who makes the argument that faith is not what we think it is. Fr. Alexander Schmemann used to tell us that Jesus is the end of religion. Yannaras is saying the same thing. I never really understood it before.
Read more »

Read more sermons
from St. Mary Church »