Make your 2015 Stewardship pledge today! »
Weekly E-mail Newsletter

Subscribe to our weekly parish email newsletter »
See the latest announcements »

Please consider a donation to St. Mary's Church to help support the ministries and work of our community. Donate now ».
Spiritual Quotes
"It seems to me, and I am personally convinced, that the Church must never speak from a position of strength…It ought not to be one of the forces influencing this or that state. The Church ought to be, if you will, just as powerless as God himself, which does not coerce but which calls and unveils the beauty and the truth of things without imposing them. As soon as the Church begins to exercise power, it loses its most profound characteristic which is divine love [i.e.] the understanding of those it is called to save and not to smash…"
- Metropolitan Anthony Bloom
Upcoming Services and Events
Sunday, April 26
11:30 am
1 year Memorial- Donald DiFiore
Sunday, May 10
Last Day of Church School
Wednesday, May 13
7 pm
Convention Committee Mtg.
Wednesday, May 20
6:30 pm
Evening Liturgy for the Feast of the Ascension of our Lord
Service Schedule and Calendar

Sunday Orthros - 8:45 am
Sunday Divine Liturgy - 10:00 am
Great Vespers - Saturdays 5:00 pm
Confessions - Saturdays 6:00 pm or by appointment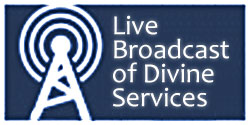 If you are unable to attend in person, consider tuning in to our live broadcasts! See More »
April 19, 2015 - by Fr. Antony Hughes
I have not always understood Thomas. I think there are several reasons two of them being that I did not want to acknowledge that I am like him, skeptical and often unbelieving and secondly, I did not like the idea of touching wounds. I recoiled at the mention of Thomas 'placing his finger in the mark of the nails.' And I was even more repulsed by the idea of touching my own wounds.
Read more »
April 04, 2015 - by Teva Regule
These three words summarize the feast that we celebrate today. They point to the raising of Lazarus from the dead and are a harbinger of Jesus' own death and resurrection, foreshadowing the in breaking of God's reign into history. We believe they also prefigure our own resurrection.
Read more »

Read more sermons
from St. Mary Church »
---
We are a parish in the Diocese of Worcester of the Antiochian Orthodox Christian Archdiocese of North America.
Patriarch John X of Antioch | Metropolitan Joseph, Primate | Bishop John, Auxiliary Bishop
Very Rev. Father Antony Hughes, Pastor | Rev. Deacon Jeffrey Smith, Deacon