Make your 2015 Stewardship pledge today! »
Weekly E-mail Newsletter

Subscribe to our weekly parish email newsletter »
See the latest announcements »

Please consider a donation to St. Mary's Church to help support the ministries and work of our community. Donate now ».
Spiritual Quotes
We must start to meet: people must meet people; we are all human beings. Before being Christians or Jews or Muslims, before being Americans or Russians or Africans, before being generals or priests, rabbis or imams, before having visible or invisible disabilities, we are all human beings with hearts capable of loving.
- Jean Vanier, 2015 Winner of the Templeton Prize
Upcoming Services and Events
Friday, March 27
Diocese Teen SOYO Retreat
Saint Methodios Retreat Center in Contoocook, New Hampshire
Monday, March 30
7 pm
Great Compline
St. George Cathedral in Worcester
Wednesday, April 1
6:30 pm
Pre-Sanctified Liturgy followed by pot luck
Service Schedule and Calendar

Sunday Orthros - 8:45 am
Sunday Divine Liturgy - 10:00 am
Great Vespers - Saturdays 5:00 pm
Confessions - Saturdays 6:00 pm or by appointment
Throughout the Paschal Lenten Period leading up to Holy Pascha (Easter), we have an opportunity to attend special services every day in the first week of Lent and each subsequent Wednesday and Friday evenings. Here's a brief explanation of these services in the hopes that you will join us (either in person or online!) and make more meaningful your Lenten journey!
Read more »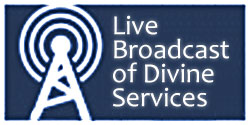 If you are unable to attend in person, consider tuning in to our live broadcasts! See More »
Fr. Tom Hopkos's 55 Maxims for Christian Living
Memory Eternal (3/28/39 – 3/18/15)
1. Be always with Christ.
2. Pray as you can, not as you want.
3. Have a keepable rule of prayer that you do by discipline.
March 23, 2015 - by Linda Arnold and Maggie Rodriguez
We, the beloved, matter. All creation matters. What Christ has done He did because we matter! Let us wait a while with the dying One. Let us not rush to Pascha. But after a time, when we have lamented, when we have come to our senses, when we have let go, when we have owned our stuff and given Him all the parts of ourselves, when through loss and suffering we are stripped of all our fantasies and illusions, let us go into the bright and dawning new day of Pascha.
Read more »
March 15, 2015 - by Andrea Popa
While the Holy Thursday shared meal is commonly known as the Last Supper, I would like to consider it also being the Last Lesson of our Lord Jesus Christ. This was the calm before the storm. While the disciples were going about the details of their daily lives, Christ knew this would be the last quiet time of teaching before the events leading to his death began to unfold.
Read more »

Read more sermons
from St. Mary Church »
---
We are a parish in the Diocese of Worcester of the Antiochian Orthodox Christian Archdiocese of North America.
Patriarch John X of Antioch | Metropolitan Joseph, Primate | Bishop John, Auxiliary Bishop
Very Rev. Father Antony Hughes, Pastor | Rev. Deacon Jeffrey Smith, Deacon