Weekly E-mail Newsletter

Subscribe to our weekly parish email newsletter »
See the latest announcements »

Please consider a donation to St. Mary's Church to help support the ministries and work of our community. Donate now ».
Spiritual Quotes
Now the virgin is returning…
A new human race is descending from the heights of heaven…
The birth of a child, with whom the iron age of humanity will end and the golden age begin…
Under your guidance, whatever vestiges remain of our ancient wickedness,
Once done away with, shall free the earth from its incessant fear…
For your sake, O child, the earth, without being tilled,
Will freely pour forth its gifts…
Your very cradle shall pour forth for you
Caressing flowers. The serpent too shall die…
Assume your great honors, for the time will soon be at hand,
Dear child of the gods, great offspring of Jove!
See how it totters – the world's vaulted might,
Earth, and wide ocean, and the depths of heaven,
All of them, look, caught up in joy at the age to come.
- Vergil, Fourth Ecologue
Upcoming Services and Events
Wednesday, December 24
9 am
Royal Hours for the Nativity
11 am
Vesperal Liturgy of St. Basil
8 pm
Festal Divine Liturgy of St. Basil
Service Schedule and Calendar

Sunday Orthros - 8:45 am
Sunday Divine Liturgy - 10:00 am
Great Vespers - Saturdays 5:00 pm
Confessions - Saturdays 6:00 pm or by appointment
Learn more about the special services during the Nativity Fast!

Make your 2015 Stewardship pledge today! »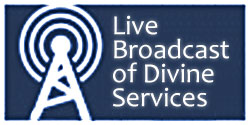 If you are unable to attend in person, consider tuning in to our live broadcasts! See More »
November 30, 2014 - by Fr. Antony Hughes
One of the most important things I have discovered this year, is that the last part of the Great Commandment, especially the 'as yourself' part is as important as the first two, to love God and neighbor. I had never realized this. Perhaps Jesus who said, 'The first shall be last,' put it at the end deliberately because of its importance. Without proper self-love we cannot love our neighbors and if we do not love our neighbor, then we cannot love God..
Read more »
November 09, 2014 - by Fr. Antony Hughes
Something stirred in her, the desire for freedom and from suffering. Isn't repentance in one sense freeing ourselves from the illusion of the past? She began to see that she was more than her past, more than a disease, more than a label.
Read more »

Read more sermons
from St. Mary Church »
---
We are a parish in the Diocese of Worcester of the Antiochian Orthodox Christian Archdiocese of North America.
Patriarch John X of Antioch | Metropolitan Joseph, Primate | Bishop John, Auxiliary Bishop
Very Rev. Father Antony Hughes, Pastor | Rev. Deacon Jeffrey Smith, Deacon