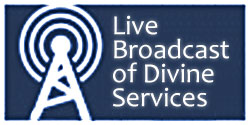 If you are unable to attend in person, consider tuning in to our live broadcasts! See More »
---

Enter every moment then as something utterly fresh and new. Let go of what has gone before and dare to believe that the only thing that matters to God is what we do with the moment we inhabit right now. And then live in it boldly and creatively, giving thanks and rejoicing always that God is the God of new beginnings, always ready to receive us as we are because he knows who we really are. He knows our true name!
Read more »

Make your 2018 Stewardship pledge today! »
Weekly E-mail Newsletter

Subscribe to our weekly parish email newsletter »
See the latest announcements »

Please consider a donation to St. Mary's Church to help support the ministries and work of our community. Donate now ».
Spiritual Quotes
Listen to your life. Listen to what happens to you, because it is through what happens to you that God speaks. It's in language that's not always easy to decipher, but it's there, powerfully, memorably, unforgetably.
- Frederick Buechner
Upcoming Services and Events
Wednesday, March 21
6:30 pm
Presanctified Liturgy followed by Potluck Supper
Sunday, March 25
12 pm
Women's Club Pascha Bake Sale
Wednesday, March 28
6:30 pm
Presanctified Liturgy followed by Potluck Supper
Service Schedule and Calendar

Sunday Orthros - 8:45 am
Sunday Divine Liturgy - 10:00 am
Great Vespers - 1st Saturday of the Month 5:00 pm
Confessions - By appointment
February 18, 2018 - by Fr. Antony Hughes
It is not our choice whether to be saved or not. It is done. It is finished. However, it is our choice whether or not we will choose to come to a knowledge of the truth. In other words, whether or not we will dive deliberately into the experience of what it means to be loved, forgiven, and saved and that comes only through an internal pilgrimage. Lent is a quiet time, a much slower time than is normal for most people. If we choose to acknowledge it, everything that happens directs us to look deeper and to live more deliberately and consciously.
Read more »
February 10, 2018 - by Fr. Antony Hughes
We are in the midst of a kind of awakening. The sciences, including neuroscience and the quantum sciences, have discovered that there is mystery at the core of the universe. Psychology is being revolutionized by the discovery of the benefits of mindfulness practice in religious people, including prayer and meditation. Even the Orthodox practice called hesychasm is being studied. Classically, our words for the now ubiquitous term 'mindfulness' are 'watchfulness and vigilance,' and nepsis. They mean the same thing and I tend to use them interchangeably. It is wonderful that religion, science, and psychology suddenly are no longer always at war. Metropolitan Zizioulas, I believe, said that religion and science are not at odds with each other at all, they 'coinhere.' I think he is right. This has been an object of interest and research for me for over 20 years.
Read more »

Read more sermons
from St. Mary Church »