Make your 2015 Stewardship pledge today! »
Weekly E-mail Newsletter

Subscribe to our weekly parish email newsletter »
See the latest announcements »

Please consider a donation to St. Mary's Church to help support the ministries and work of our community. Donate now ».
Spiritual Quotes
"The Fifth Beatitude that was spoken in the Sermon on the Mount is, "Blessed are the merciful, for they shall obtain mercy (Matt. 5:7). It is possible that no other commandment of Christ is needed more in our epoch than this commandment of mercy, of charity.
We live in the era of ideologies which in their attempt to be all-encompassing exist in continuous strife, and this strife fills the world with fear and hatred. We live in a world where mercy and charity are exiled, and that that is perhaps the most frightening thing about it, the sign of its dehumanization.
How often it is told about Christ in the Gospels that He had compassion on them, that He was merciful to them!
- Fr. Alexander Schmemann
Upcoming Services and Events
Wednesday, December 2
7:30 pm
Parish Council Meeting
Saturday, December 5
6 pm
Diocesan Christmas Concert
St George Orthodox Cathedral, 30 Anna St, Worcester, MA 01604, United States
Service Schedule and Calendar

Sunday Orthros - 8:45 am
Sunday Divine Liturgy - 10:00 am
Great Vespers - Saturdays 5:00 pm
Confessions - Saturdays 6:00 pm or by appointment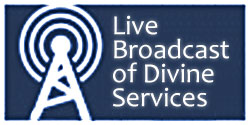 If you are unable to attend in person, consider tuning in to our live broadcasts! See More »
November 22, 2015 - by Fr. Antony Hughes
Letting come and letting go is the heart of the spiritual life and a key to psychological well-being. It is an act of faith in the love and omnipresence of God to believe that what comes after we let go of this moment will be followed by grace over and over again in the next, no matter what shape it takes. And then life, lived with sacred mindfulness, becomes a miraculous journey to be met with curiosity, courage and compassion rather than a depressing pilgrimage to a fearful end.
Read more »
November 15, 2015 - by Fr. Antony Hughes
This is the truth we must ignore every time we are cruel to one another, or ignore one another, or become defensive, or abuse ourselves or our neighbors in some fashion. Interconnectedness is the foundation of the Great Commandment to love for there is in truth no separation between us and God, between you and me, between us and them. All divisions are creations of our minds.
Read more »

Read more sermons
from St. Mary Church »