Weekly E-mail Newsletter

Subscribe to our weekly parish email newsletter »
See the latest announcements »

Please consider a donation to St. Mary's Church to help support the ministries and work of our community. Donate now ».
Spiritual Quotes
The meaning and purpose of dancing is the dance. Like music also, it is fulfilled in each moment of its course. You do not play a sonata in order to reach the final chord, and if the meaning of things were simply in ends, composers would write nothing but finales.
- Alan Watts
Upcoming Services and Events
Diocesan Men's Retreat
Metropolis of Boston Retreat Center
September 19, 2014
Great Vespers
September 20, 2014 5 pm
Orthros
September 21, 2014 8:45 am
Divine Liturgy
September 21, 2014 10 am
Church School begins
September 21, 2014 11 am
Welcome Back Breakfast
September 21, 2014 11:30 am
Parish Council Meeting
September 24, 2014 7:45 pm
Service Schedule and Calendar

Sunday Orthros - 8:45 am
Sunday Divine Liturgy - 10:00 am
Great Vespers - Saturdays 5:00 pm
Confessions - Saturdays 6:00 pm or by appointment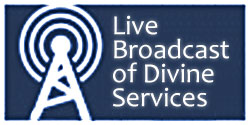 If you are unable to attend in person, consider tuning in to our live broadcasts! See More »
September 07, 2014 - by Fr. Antony Hughes
According to John, God loved the world so much that he came to tell us and to show us. Although God could always be found in nature and in Scripture, that was not enough. Love cannot stay at arm's length. An incarnation is God's most personal invitation to us to accept his embrace.
Read more »
August 31, 2014 - by Fr. Antony Hughes
Today a rich, young man - a man who had all the material possessions he needed and all the religious pedigree possible according to the Law – approaches Jesus with a question: 'What must I do to have eternal life.' He knew the answer Jesus would give (at least part of it). The Lord goes down a short list of the Ten Commandments. This is the law both of them knew very well.
Read more »

Read more sermons
from St. Mary Church »
---
We are a parish in the Diocese of Worcester of the Antiochian Orthodox Christian Archdiocese of North America.
Patriarch John X of Antioch | Metropolitan Joseph, Primate | Bishop John, Auxiliary Bishop
Very Rev. Father Antony Hughes, Pastor | Rev. Deacon Jeffrey Smith, Deacon