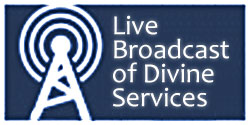 If you are unable to attend in person, consider tuning in to our live broadcasts! See More »

Make your 2017 Stewardship pledge today! »
Weekly E-mail Newsletter

Subscribe to our weekly parish email newsletter »
See the latest announcements »

Please consider a donation to St. Mary's Church to help support the ministries and work of our community. Donate now ».
Spiritual Quotes
"The soul leaves all surface appearances, not only those that can be grasped by the senses but also those which the mind itself seems to see, and it keeps going deeper until by the operation of the spirit it penetrates the invisible and incomprehensible, and it is there that it sees God. The true vision and the true knowledge of what we seek consists precisely in not seeing, in an awareness that our goal transcends all knowledge...
- St. Gregory of Nyssa
Upcoming Services and Events
Wednesday, March 29
6:30 pm
Pre-Sanctified Liturgy followed by pot luck
Saturday, April 1
6 pm
Young Adult Fellowship Night
Sunday, April 2
11:30 am
Women's Club Pascha Bake Sale
Wednesday, April 5
6:30 pm
Pre-Sanctified Liturgy followed by pot luck
Service Schedule and Calendar

Sunday Orthros - 8:45 am
Sunday Divine Liturgy - 10:00 am
Great Vespers - Saturdays 5:00 pm
Confessions - Saturdays 6:00 pm or by appointment
February 26, 2017 - by Fr. Antony Hughes
Concentrate on a Lenten practice that has the power to change your life. Fasting is good, of course, but we become so focused on it that we forget the goal, which is not just to get through Lent not eating the forbidden foods, but to expand our capacity to love God, neighbor and self unconditionally and always.
Read more »
February 12, 2017 - by Nicholas Livingston
Sermon preached by Seminarian Nicholas Livingston on Sunday, February 12, 2017 at St. Mary Church
Read more »
February 05, 2017 - by Fr. Antony Hughes
The Publican stands on the threshold of mystery. He has arrived at the doorway of repentance. The things that have been carefully hidden inside him have begun to break free and he goes to the Temple to express his sorrow at a life lived poorly.
Read more »

Read more sermons
from St. Mary Church »