Make your 2015 Stewardship pledge today! »
Weekly E-mail Newsletter

Subscribe to our weekly parish email newsletter »
See the latest announcements »

Please consider a donation to St. Mary's Church to help support the ministries and work of our community. Donate now ».
Spiritual Quotes
"Created man cannot become a son of God and a god by grace through deification, unless he is first through his own free choice begotten in the Spirit by means of the self-loving and independent power dwelling naturally in him."
- St. Maximos the Confessor
Upcoming Services and Events
Sunday, July 19
Divine Liturgy at St. George Worcester
Sunday, July 26
Orthros and Divine Liturgy at Convention
Service Schedule and Calendar

Sunday Orthros - 8:45 am
Sunday Divine Liturgy - 10:00 am
Great Vespers - Saturdays 5:00 pm
Confessions - Saturdays 6:00 pm or by appointment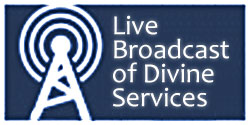 If you are unable to attend in person, consider tuning in to our live broadcasts! See More »
June 14, 2015 - by Fr. Antony Hughes
This statement intrigues me: 'they immediately left the boat and their father, and followed him.' Does that make any sense? They had families to provide for and, as we know, Middle Eastern families have very strong ties. But they left 'immediately' we are told. They just ... left! If it really happened exactly like this, there must have been something special about these men that allowed for such spontaneity.
Read more »
June 07, 2015 - by Fr. Antony Hughes
At every theophany from the creation to Pentecost, the Holy Spirit appears in ungraspable forms: wind, fire, smoke, earthquake. Even the famous dove at the Lord's baptism is not a tangible, winged creature. He descended 'in the likeness of a dove.' It is impossible to cling to any of these forms. You cannot hold wind, or smoke, or fire, or the movement of the earth. The Holy Spirit is free, like the wind. We are to become free, just like the Spirit. To be free, we must let go of our attachments.
Read more »

Read more sermons
from St. Mary Church »