Make your 2015 Stewardship pledge today! »
Weekly E-mail Newsletter

Subscribe to our weekly parish email newsletter »
See the latest announcements »

Please consider a donation to St. Mary's Church to help support the ministries and work of our community. Donate now ».
Spiritual Quotes
Benedict of Nuria teaches that the "Fear of God is always before our eyes." We are to come to see the beauty and glory of God everywhere. Then, bowing down before it in our hearts, we will live in its aura. In us, around us, before us -- this awareness of God is a slowly consuming process. But an ever clearer one. So the seeker's life is a gradual sinking into the consciousness of God...
- Sister Joan Chittister
Upcoming Services and Events
Sunday, October 18
Special Olympics Awareness day
11:30 am
Women's Club Bake Sale
Monday, October 19
7:30 pm
Women's Club Meeting
Tuesday, October 20
7:30 pm
Parish Council Meeting
Sunday, October 25
Order Deadline for Sfeeha
Service Schedule and Calendar

Sunday Orthros - 8:45 am
Sunday Divine Liturgy - 10:00 am
Great Vespers - Saturdays 5:00 pm
Confessions - Saturdays 6:00 pm or by appointment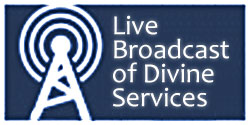 If you are unable to attend in person, consider tuning in to our live broadcasts! See More »
September 29, 2015 - by Bishop John
Fisherman were simple people, but they weren't stupid. They knew from generations and generations of being fisherman when there are no fish. But the fish came and filled the nets in abundance because the creator called them, and the fish obeyed. The fish bore witness to the testimony of Jesus Christ. When we follow the testimony of Jesus Christ even when we have to be patient and have forbearance, we experience truth; we experience freedom; we experience life
Read more »
September 20, 2015 - by Dn. Jeff Smith
To be honest, I never really liked sermons about the cross. They always went to dark places, and I was always more interested in the light. But the thing is, you can't really get to the resurrection without the cross. It's at the cross that we see God at his most humble and the living example of voluntary suffering.
Read more »

Read more sermons
from St. Mary Church »