Make your 2015 Stewardship pledge today! »
Weekly E-mail Newsletter

Subscribe to our weekly parish email newsletter »
See the latest announcements »

Please consider a donation to St. Mary's Church to help support the ministries and work of our community. Donate now ».
Spiritual Quotes
"It seems to me, and I am personally convinced, that the Church must never speak from a position of strength…It ought not to be one of the forces influencing this or that state. The Church ought to be, if you will, just as powerless as God himself, which does not coerce but which calls and unveils the beauty and the truth of things without imposing them. As soon as the Church begins to exercise power, it loses its most profound characteristic which is divine love [i.e.] the understanding of those it is called to save and not to smash…"
- Metropolitan Anthony Bloom
Upcoming Services and Events
Wednesday, May 27
7:30 pm
Parish Council Meeting
Monday, June 1
7 pm
Women's Club Dinner at Cheesecake Factory
Sunday, June 7
11:30 am
Church School Graduation
12 pm
Chinese Martyrs Bkfst/Luncheon
Tuesday, June 9
7 pm
Convention Meeting-All Committees
Service Schedule and Calendar

Sunday Orthros - 8:45 am
Sunday Divine Liturgy - 10:00 am
Great Vespers - Saturdays 5:00 pm
Confessions - Saturdays 6:00 pm or by appointment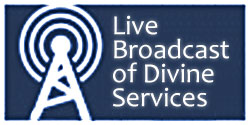 If you are unable to attend in person, consider tuning in to our live broadcasts! See More »
May 25, 2015 - by Fr. Antony Hughes
The Gospel reading today is called the Farewell Prayer and comes at the end of the Lord's discourse to his apostles in the Garden of Gethsemane after the Last Supper and is called the Farewell Discourse. The Farewell Discourse is punctuated several times by a reiteration of what is called the Lord's 'New Commandment': 'Love one another as I have loved you.' The 'new' part of that commandment is not 'love one another.' There was nothing 'new' about that. The 'new' part was the how of it. 'As I have loved you.' That was new.
Read more »
May 10, 2015 - by Fr. Antony Hughes
Today Christ meets the Samaritan Woman and sees in her the icon of himself. She is one of the very least of the brethren and, as we know, he and the least of the brethren are one. Could it be that Christ saw himself in her?
Read more »

Read more sermons
from St. Mary Church »