Weekly E-mail Newsletter

Subscribe to our weekly parish email newsletter »
See the latest announcements »

Please consider a donation to St. Mary's Church to help support the ministries and work of our community. Donate now ».
Spiritual Quotes
But most of all, Christianity teaches us that God is love, that God loved the world and so should we – a notion that I find difficult to square with retreating into a remote community waiting for the world to burn. I actually am hopeful about Christianity's place in modern life, and seeing the brutality, violence, and indifference to suffering all around us, I can't help but think the message of Jesus will retain it's power. But that hope is premised on living in the world, not apart from it, while also letting go of apocalyptic rhetoric and the acute sense of persecution so many Christians feel. One of my favorite passages comes from a letter written by the novelist and playwright Thornton Wilder, where he argued that "The revival in religion will be a rhetorical problem — new persuasive words for defaced or degraded ones." I'm far more interested in that project, in finding ways to think and talk about Christianity, as well as live it, that avoid the well-worn tropes of American religious life, than I am in waiting out the supposed new Dark Ages.
- Andrew Sullivan
Upcoming Services and Events
Great Vespers
September 6, 2014 5 pm
Orthros
September 7, 2014 8:45 am
Divine Liturgy
September 7, 2014 10 am
Church School Teachers Meeting
September 7, 2014 11:30 am
Nativity of the Theotokos
September 8, 2014
Bible Study
September 11, 2014 7 pm
Great Vespers
September 13, 2014 5 pm
Service Schedule and Calendar

Sunday Orthros - 8:45 am
Sunday Divine Liturgy - 10:00 am
Great Vespers - Saturdays 5:00 pm
Confessions - Saturdays 6:00 pm or by appointment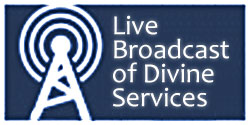 If you are unable to attend in person, consider tuning in to our live broadcasts! See More »
August 24, 2014 - by Fr. Antony Hughes
Jesus uses metaphorical language when talking about the kingdom because mysteries cannot be described in any other way. The kingdom cannot be analyzed or quantified; it must be experienced to be known. That is why Jesus spoke so often in parables. The kingdom of heaven is a mystery beyond the power of thought.
Read more »
August 17, 2014 - by Fr. Antony Hughes
I do know that there are other kinds of mountains that do need to be moved. They are inside of us. These are those interior hindrances to love (and to faith) that Rumi writes about.
Read more »

Read more sermons
from St. Mary Church »
---
We are a parish in the Diocese of Worcester of the Antiochian Orthodox Christian Archdiocese of North America.
Patriarch John X of Antioch | Metropolitan Joseph, Primate | Bishop John, Auxiliary Bishop
Very Rev. Father Antony Hughes, Pastor | Rev. Deacon Jeffrey Smith, Deacon