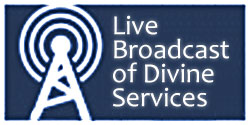 If you are unable to attend in person, consider tuning in to our live broadcasts! See More »
January 18, 2017
The Week of Prayer for Christian Unity is an international initiative. Locally, UniteBoston is coordinating seven consecutive evening collaborative gatherings of prayer and worship from January 18-25, 2017.
Read more »

Make your 2017 Stewardship pledge today! »
Weekly E-mail Newsletter

Subscribe to our weekly parish email newsletter »
See the latest announcements »

Please consider a donation to St. Mary's Church to help support the ministries and work of our community. Donate now ».
Spiritual Quotes
"The soul leaves all surface appearances, not only those that can be grasped by the senses but also those which the mind itself seems to see, and it keeps going deeper until by the operation of the spirit it penetrates the invisible and incomprehensible, and it is there that it sees God. The true vision and the true knowledge of what we seek consists precisely in not seeing, in an awareness that our goal transcends all knowledge...
- St. Gregory of Nyssa
Upcoming Services and Events
Sunday, January 22
11:30 am
Annual Parish Meeting
Wednesday, February 1
6:30 pm
Vesperal Divine Liturgy-Presentation of Christ in the Temple
Saturday, February 4
9:30 am
Women/Teen General Assembly-St. George W. Roxbury
Service Schedule and Calendar

Sunday Orthros - 8:45 am
Sunday Divine Liturgy - 10:00 am
Great Vespers - Saturdays 5:00 pm
Confessions - Saturdays 6:00 pm or by appointment
January 15, 2017 - by Fr. Antony Hughes
Reading is one of the great joys of my life as most of you know. I do not usually read for pleasure, but for learning and for personal growth. I read and study to improve as a person and sharpen my skills as a priest. Learning and growing is a sign of life. If we are not growing and learning and changing, then we are not truly alive. As an example, the Orthodox conception of the afterlife is not static and unchanging. God will always be teaching and we will always be learning, is how some have put it.
Read more »
November 01, 2016 -
It is news to no one that life is filled with happiness and disappointment. We cannot expect that what happens will always please us. Light and darkness, good and bad, joy and sorrow are not really opposites; they are interwoven in the fabric of life. This we know if we think about it.
Read more »

Read more sermons
from St. Mary Church »