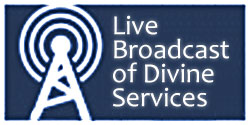 If you are unable to attend in person, consider tuning in to our live broadcasts! See More »
---
Special Announcements and Upcoming Events

Make your 2017 Stewardship pledge today! »
Weekly E-mail Newsletter

Subscribe to our weekly parish email newsletter »
See the latest announcements »

Please consider a donation to St. Mary's Church to help support the ministries and work of our community. Donate now ».
Spiritual Quotes
Christianity is a lifestyle - a way of being in the world that is simple, non-violent, shared, and loving. However, we made it into an established "religion" (and all that goes with that) and avoided the lifestyle change itself. One could be warlike, greedy, racist, selfish, and vain in most of Christian history, and still believe that Jesus is one's "personal Lord and Savior" . . . The world has no time for such silliness anymore. The suffering on Earth is too great.
- Richard Rohr
Upcoming Services and Events
Sunday, December 17
11:30 am
Christmas Pageant
12 pm
Clothing Drive Collection
Sunday, December 24
8 pm
Festal Liturgy of St. Basil
Service Schedule and Calendar

Sunday Orthros - 8:45 am
Sunday Divine Liturgy - 10:00 am
Great Vespers - 1st Saturday of the Month 5:00 pm
Confessions - By appointment
October 02, 2017 - by Fr. Antony Hughes
That seems such a huge thing to ask of us: to be as merciful, kind, and compassionate as God himself. Notice that Jesus does not mention being obedient to any law or religion or even a code of morality. He asks only that we be merciful. Why? Because it is not about religion or law or morality, it is about a new way of life governed only by love.
Read more »
September 03, 2017 - by Fr. Antony Hughes
There is always a danger that we will try and use Jesus for our personal gain. You see it all the time on television – Christianity as a way to make money or gain power and notoriety. It is shameful of course and frightening the way so many people fall for it. We must be careful that we do not fall ourselves into such obvious corruption. Those who practice the way of using Christianity for egoic self-interest clearly do not know the Jesus they claim to represent.
Read more »

Read more sermons
from St. Mary Church »