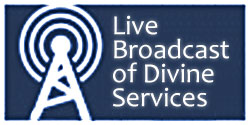 If you are unable to attend in person, consider tuning in to our live broadcasts! See More »
---

So much of popular and common religion is self-centered, as Richard Rohr and everyday experience tells us. We have come to believe that it is about me and my salvation, my sin, my righteousness, the star in my crown, and if this is so, then there is a great distance between what we believe about Christ and who he has revealed God to be.
Read more »

Make your 2018 Stewardship pledge today! »
Weekly E-mail Newsletter

Subscribe to our weekly parish email newsletter »
See the latest announcements »

Please consider a donation to St. Mary's Church to help support the ministries and work of our community. Donate now ».
Spiritual Quotes
Listen to your life. Listen to what happens to you, because it is through what happens to you that God speaks. It's in language that's not always easy to decipher, but it's there, powerfully, memorably, unforgetably.
- Frederick Buechner
Upcoming Services and Events
Sunday, January 28
12 pm
Annual Parish Meeting
Thursday, February 1
6:30 pm
Veperal Divine Liturgy-Presentation of Christ in the Temple
Saturday, February 3
6 pm
Young Adult Fellowship Night
Sunday, February 4
11:30 am
Chinese New Year Brakfast
Sunday, February 11
11:30 am
40 day Memorial Mary Homsy
Service Schedule and Calendar

Sunday Orthros - 8:45 am
Sunday Divine Liturgy - 10:00 am
Great Vespers - 1st Saturday of the Month 5:00 pm
Confessions - By appointment
January 08, 2018 - by His Grace Bishop John
Jesus is called the lamb of God. This shows us that His incarnation and passion and suffering and death are all voluntary. He was willing because of His love for us, understanding how terrible it is that we are separated from God, to sacrifice himself so that he could share his very life with us. During the Orthros of Epiphany, we hear in the Synaxarion reading that we use our senses in this revelation of God, this Theophany.
Read more »
December 31, 2017 - by Fr. Antony Hughes
The whole life, death, and resurrection was a revelation of Grace. God has filled all things with himself, even death, even the grave. He has baptized all things in the fire of his Compassion. God has taken our burdens on himself. He has set us free from sin, death, and the Evil One. The ringing and eloquent last words of Jesus in John's Gospel was a resounding and final, 'It is finished.'
Read more »

Read more sermons
from St. Mary Church »