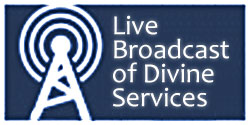 If you are unable to attend in person, consider tuning in to our live broadcasts! See More »
---

Our Lenten discipline is not to try and impress God. It is to help us recognize our absolute dependence on him. If we have not yet owned our own powerlessness, Great Lent returns year after year to give us another chance to do so. And also to become more and more convinced that God is Trustworthy, even when we are not.
Read more »

Make your 2018 Stewardship pledge today! »
Weekly E-mail Newsletter

Subscribe to our weekly parish email newsletter »
See the latest announcements »

Please consider a donation to St. Mary's Church to help support the ministries and work of our community. Donate now ».
Spiritual Quotes
Listen to your life. Listen to what happens to you, because it is through what happens to you that God speaks. It's in language that's not always easy to decipher, but it's there, powerfully, memorably, unforgetably.
- Frederick Buechner
Upcoming Services and Events
Tuesday, February 20
6:30 pm
Little Compline w/Canon of St. Andrew
Wednesday, February 21
6:30 pm
Pre-Sanctified Liturgy followed by pot luck
Thursday, February 22
6:30 pm
Little Compline w/Canon of St. Andrew
Sunday, February 25
Lenten Food Sale Deadline
Wednesday, February 28
6:30 pm
Pre-Sanctified Liturgy followed by pot luck
Service Schedule and Calendar

Sunday Orthros - 8:45 am
Sunday Divine Liturgy - 10:00 am
Great Vespers - 1st Saturday of the Month 5:00 pm
Confessions - By appointment
February 10, 2018 -
We are in the midst of a kind of awakening. The sciences, including neuroscience and the quantum sciences, have discovered that there is mystery at the core of the universe. Psychology is being revolutionized by the discovery of the benefits of mindfulness practice in religious people, including prayer and meditation. Even the Orthodox practice called hesychasm is being studied. Classically, our words for the now ubiquitous term 'mindfulness' are 'watchfulness and vigilance,' and nepsis. They mean the same thing and I tend to use them interchangeably. It is wonderful that religion, science, and psychology suddenly are no longer always at war. Metropolitan Zizioulas, I believe, said that religion and science are not at odds with each other at all, they 'coinhere.' I think he is right. This has been an object of interest and research for me for over 20 years.
Read more »
January 21, 2018 - by Fr. Antony Hughes
Zaccheus lived in a world of his own dominated by fear and greed, by hatred and suspicion. He lied and cheated to survive and to prosper at the expense of others. He was hated and despised by his neighbors and he returned the favor. He must have despised himself as well, for only those who do mistreat others. If we do not love ourselves, our true, godly, beautiful self, then we cannot love God or neighbor.
Read more »

Read more sermons
from St. Mary Church »